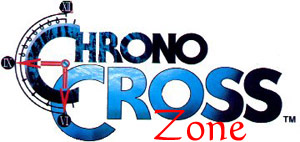 The long wait is over...
The Sequel to Chrono Trigger.
With a new line of Characters, multiple story lines and
attacks and specials like no other, music like no other game
made. The best RPG game is finally here!!
Only for Playstation
PLEASE CHECK UPDATES!!!!!!!!
Updates:
JOB OPENINGS!!!!!! APPLY NOW!
Ok, Chrono Trigger and Chrono Cross fans. I have been very lazy, and been doing practically nothing to the new site. I need some people that are dedicated to Chrono Trigger and Chrono Cross and will work on the new site a lot so it will be very awesome. I have noticed many people still visit this site and am astounded. Mostly all positions are open for the new site. Here is an URL of a list.
http://www.chrononexus.com/Requirements.html
The new sites URL is http://www.chrononexus.com not much there though. E-mail at the link on chrononexus. Also sorry if I haven't answered many e-mails been kinda busy like I said.
New URL- http://thechronocrosszone.cjb.net
Free Chrono Cross Zone Mail!!
click the links the link below to find out how to get it
(This page is best viewed with 800 by 600 pixels)