Viper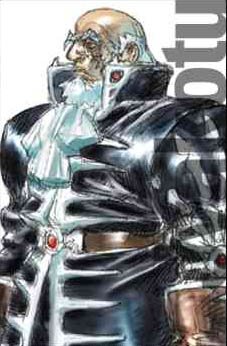 Profile:
Age: 57 (M)
Origin: El Nido
Height: 6'7"
Weight: 216 lbs.
Job: General
Innate: Yellow
Build: Solid
Weapon: Sword
Right-Handed
Attacks:
High%-Weak-Jab
Mid%-Normal-Slash
Low%-Fierce-Spinning slash, backslash
Tech Skill:
Lv.3: G-Force-Single Foe
(Utilize gravity's pull to swing sword harder)
Lv.5: AirForce-All Foes
(Make huge blades of thin air and hurl them at foe's)
Lv.7: FlagBearer-Self
(Raise the national flag to raise the fighting spirit!!)
Note: After Serge is reborn, go to Termina (Home World) with General Viper in your party and talk to the bar lady, go into the back room and go by the big flag and press X by it.
Recruitment:
Go to Hermit's Hideaway (Another World) after rescuing Riddel from the Porre Army from Viper Manor, Genral Viper is on board the S.S Invincible he will join you there.