Kid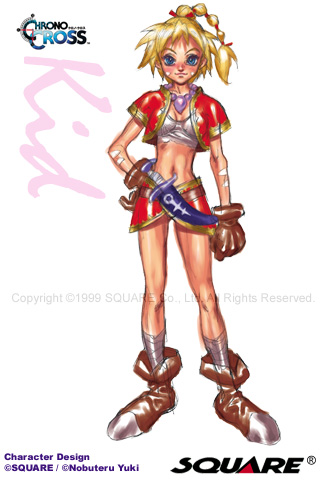 Profile:
Mysterious Traveler
Age: 16 (F)
Origin: Unknown
Height: 5'5"
Weight: 98lbs.
Job: Unknown
Innate: Red
Build: Slender
Weapon: Dagger
Right-Handed
Attacks:
High%-Weak-Stab
Mid%-Normal-Slash
Low%-Fierce-Strong uppercut with blade
Tech Skills:
Lv.3: Pilfer-Single Foe
(Attempt tp steal your opponenet's treasure
Lv.5: RedPin-All Foes
(Throw a whole bunch of daggers all at once at foes)
Lv. 7: HotShot-Single Foe
(The Death-blow machine invented by Lucca)
Note: In Lucca's burning house go to the machinery in the first room and enter L-A-R-A
Recruitment:
Kid will try to get you to join you several times at Cape Howl, Termina, and Viper Manor. Agree to her whenever you feel the time is right.