Serge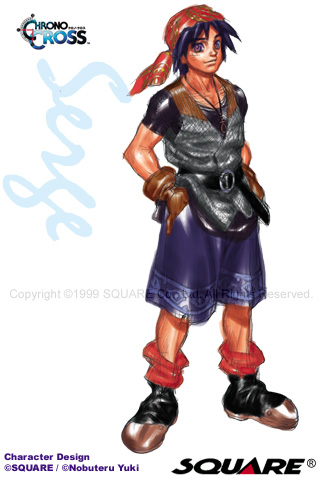 Profile:
Silent Protagonist
Age: 17 (M)
Origin: Arni
Height: 5'7"
Weight: 128lbs.
Job: Homework Assistant
Innate: White
Build: Ordinary
Weapon: Swallow
Right-Handed
Attacks:
High%-Weak-Jab
Mid%-Normal-Slash
Low%-Fierce-Double slash with each end of swallow
Tech Skills:
Level.3: Dash and Slash-Single Foe
(Charge at foe for extra powerful blade strike)
Level.5: Luminiare-All Foes
(Build up and release a burst of "chi" energy)
Level.7: Flying Arrow-Single Foe
(Focus energy on Swallow and hurl yourself at foe)
Note: Learned automatically at 35 stars
Recruitment:
Play Chrono Cross and you got him in your party!!